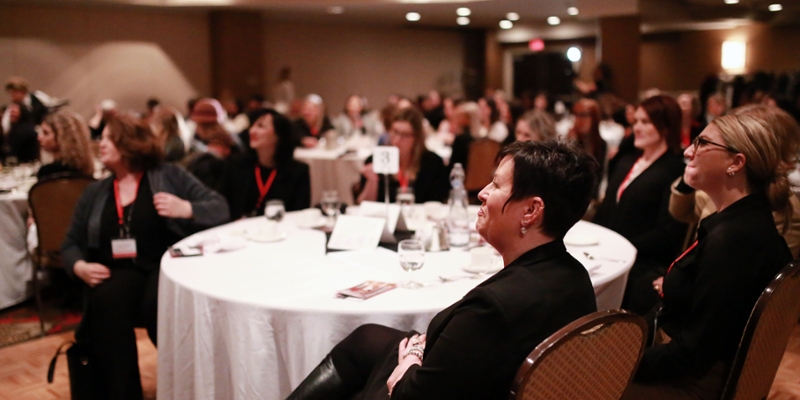 Edwards hosts sold-out luncheon on mobilizing Canadian women leaders
Natasha Katchuk

Mobilizing women leaders was the focus of conversation at the sold-out networking luncheon on February 6, 2019.
Hosted by PowHERhouse Media and the Executive Education unit at Edwards School of Business, the event focused on how to move women leaders forward on the collective path of leadership to ensure women are mobilized into key leadership positions across Canada.
It is a critical time to have these conversations as the World Economic Forum's latest Gender Gap Report predicts it may take another 217 years to close the gender gap at the current rate of progress.
PowHERhouse founder and CEO, Charlene SanJenko, referenced the Bloomberg Gender-Equality Index, the 2020 American female presidential candidates and the Gender Equality Network Canada as current signs the world is beginning to wake up. She emphasized the need for a well-coordinated national plan to mobilize women leaders forward and PowHERhouse's commitment to significantly increase the number of Canadian women in key leadership positions by 2025. SanJenko also added in her opinion many women are already great leaders, but she feels that the biggest barrier women face is accessing tools to amplify, empower and increase their impact.
With these qualities in mind, a diverse cross-section of women leaders in Saskatchewan were chosen as the four guest speakers: 
• Kari Harvey, Chief Operating Officer (COO), Innovation Saskatchewan
• Miriam Johnson, Director of Marketing, Saskatchewan Roughriders Football Club
• Christine Hrudka, Passionate Pharmacist, Entrepreneur and Chair of the Canadian Pharmacist Association
• Véronique Loewen, Manager of Communications, Orano Canada
Following the keynotes, participants had an opportunity to put their learning into action with purposeful facilitated table talk networking. Led by table champions; groups were challenged to think about their leader path and answer questions such as "How do you move from where you are to where you want to be as individual leaders?" and "What can you learn from others on the path?"
The event wrapped up with SanJenko encouraging those interested in amplifying their leadership skills to consider registering for the spring 2019 cohort of SPEAK! Canada in Saskatoon, SK. The program begins March 22 with a 1-day in-person intensive, followed by five modules delivered online over the following seven weeks. Students will work towards a presentation celebration event on May 7, 2019, where they will deliver their 5-minute presentation. For more information, please visit edwards.usask.ca/execed.
About Edwards Executive Education
Women's initiatives offered by Edwards Executive Education currently include Speak! Canada, the Betty-Ann Heggie Womentorship program, Empowering Women Leaders, the Women of Influence Breakfast Presentation and the Lunafest International Film Festival.
About PowHERhouse
PowHERhouse Media provides a supportive ecosystem that creates positive systemic change in the way female leaders see and express themselves. An educational and economic driver, we use publications and partnerships, live events and well-curated online content, marrying media and manifestation to move women forward – faster. We're on a mission to redefine the role of women's media in Canada and the impact it can make.
---