Research collaborations on persuasion in marketing
Joelena Leader

Barbara Phillips, Edwards School of Business (Edwards) Marketing Professor and Rawlco Editor, is a leading visual branding scholar conducting groundbreaking research on persuasive marketing. Her research explores visual images in advertising and how pictures communicate with people.
Phillips has been collaborating with Edwards students and faculty on several research projects and resulting publications related to persuasive marketing. One of Dr. Phillips' recent publications Death in advertising: the last taboo? with co-authors Jane Caulfield and Michelle Day explores whether advertisers can use death portrayals in their advertising for non-death related products. This work has gained significant attention including a feature in the Globe and Mail's Report on Business Magazine and the Lessons Learned in Marketing Podcast with David Bellerive of Phoenix Group highlighting this topic as new terrain in the world of marketing.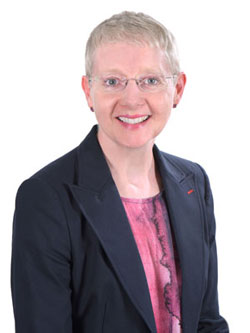 Social media influencers and brand engagement
More recently, Phillips has been collaborating with Master of Science (M.Sc.) in Marketing graduate Brittany Michaels and Edwards faculty member Dr. Marjorie Delbaere. Their recent publication, Social media influencers: A route to brand engagement for their followers, emerging from Michaels' M.Sc. thesis research examined whether social media influencers contribute to brand engagement. Using automated textual analysis to examine over 60,000 comments from YouTube videos with beauty influencers, the study looked at brand engagement and whether these videos would engage followers with the brand. Specifically, they explored whether followers think about the brand by determining how often they mention the brand in their comments, and how they feel about it through assessing affect (positive or negative responses) and whether they act by buying the brand.
"Many marketers want to partner with social media influencers right now, especially on Instagram, or YouTube but they don't know if doing so will help their brand," said Phillips. "There are not a lot of metrics to support that, and so this research helps marketers because of the method that we used and what we learned."
They found that followers not only engage with the content of the videos and the influencers, but also engage with the brand. This is evidenced by specific mentions of the brand in their comments, many with positive comments towards the brand itself and indicate they have bought or would buy the brand.
Importantly, the influencer needs to be a good match. They found that the influencer does not need to be a celebrity but someone who is popular and followers like but is also is the right fit for the brand and particular product.
"We found advertisers can engage consumers with the brand through influencers," explained Phillips. "The influencer acts as a route to brand engagement for the follower. It has a valuable implication for marketers in Saskatchewan and beyond. It has a lot of applicability and gives marketers more reassurance that it's going to help their brand."
Corporate Social Responsibility in advertising
Another recent publication, Luxury brands' use of CSR and femvertising: the case of jewelry advertising, with collaborators M.Sc. marketing graduate Stephanie Pankiw and faculty member Dr. David (Stormy) E. Williams examined whether luxury jewelry brands were communicating their Corporate Social Responsibility (CSR) practices, including women's empowerment, in their advertising. They also explored best practices that jewelry companies should undertake in communicating their CSR messages while still selling their products.
This work draws on Pankiw's M.Sc. thesis work where she conducted a content analysis of jewelry ads in fashion magazines and interviewed twenty jewelry consumers exploring what they like to see in jewelry ads.
"When you look at jewelry ads, they don't talk about their social causes very much," Phillips said. "Companies often only show the jewelry and that is a missed opportunity because when we talked to jewelry consumers, we learned that they care about companies' CSR practices and expect companies to be ethical."
According to Phillips, Pankiw "created a framework of how jewelry brands can incorporate CSR activities without jeopardizing sales." This work has implications for jewelry brands and advertisers by helping them promote their CSR in a way that is going to connect with consumers and still contribute to profits.
Musicians negotiate creative and commercial roles
Additionally, Phillips, M.Sc. marketing student Ariel Sanders and faculty member Dr. David (Stormy) E. Williams are collaborating on a publication that is currently under review exploring how musicians sell their sound to gatekeepers in the music industry.
Interviews with ten professional musicians from across Canada and across genres uncovered that musicians navigate between both the creative and commercial sides of the industry with ease and at times occupying both positions simultaneously.
"We learned how musicians negotiate needing to be creative as artists to create music and be commercial to sell their music to the industry," explained Phillips. "The theory is that there is a tension between musicians managing those two aspects but what we found is that they are very good at moving between these different positions."
These collaborations with students and faculty have generated diverse approaches and new perspectives in the area of persuasive marketing. Results from these studies can help companies to persevere through challenging times by making evidence-based decisions in their marketing strategies and promote messaging that connects with consumers.
Phillips' has enjoyed mentoring students, helping them with their questions and this process has resulted in a number of meaningful collaborations.
"Students come with their interests and I want to support that interest," shared Phillips. "I helped them to find their question, one that has not been answered and is interesting. I think that's why we've been so successful in the collaboration because students have this passion for their projects, and I can help them find a question."
While collaboration can be challenging when you must learn about a whole new area given the variety of student interests, Phillips shared, "That is the fun part. It pushes you to learn new things."
For more information about Dr. Barbara Phillips' research, check out her faculty profile page.
Publication Highlights
Caulfield, Jane, Michelle Day, and Barbara J. Phillips (2020). Death in advertising: the last taboo?
International Journal of Advertising, forthcoming.
Delbaere, Marjorie, Brittany Michael, and Barbara J. Phillips (2020). Social Media Influencers: A Route to
Brand Engagement for their Followers, Psychology & Marketing, forthcoming.
 
Pankiw, Stephanie, Barbara J. Phillips, and David E. Williams (2020). Luxury Brands' Use of CSR and
Femvertising: The Case of Jewelry Advertising, Qualitative Market Research, forthcoming.
 
Sanders, Ariel, Phillips, Barbara, and Williams, David E. Sound Sellers:  Musicians' Plasticity Strategies in
the Face of Industry Gatekeepers. Submitted for review.
---