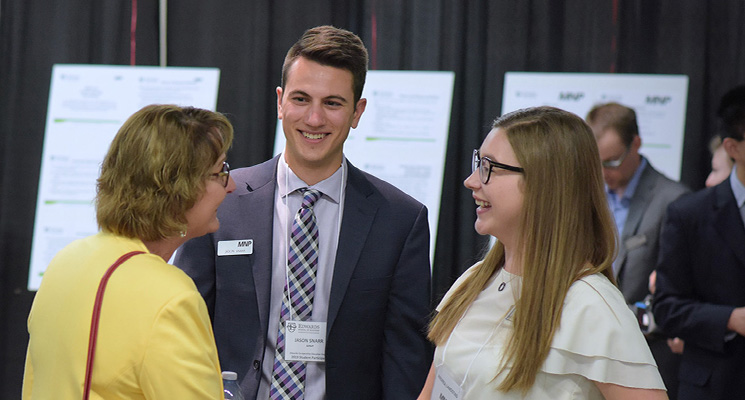 USask Unites: The Edwards School of Business and Mitacs launch new summer internship program with focus on economic recovery
Natasha Katchuk

The
Mitacs Business Strategy Internship Program
aims to connect students and faculty with Canadian businesses to apply classroom learnings to real-world situations. The goal is to stimulate Canada's economic recovery in the COVID-19 era, and to provide additional opportunities for business students in need of summer work.
To qualify for the grant, partner organizations must be a small to medium-sized company or not-for-profit organization. In addition, they must contribute $2,500 to the pooled funding. Edwards will match the contribution of the partner organization and Mitacs will fund the remaining portion of the $10,000 total compensation for a four-month internship.
"As we adjust to a new economic reality, we recognize the importance of supporting our local business community," said Dr. Keith Willoughby (PhD), dean of the Edwards School of Business. "I encourage employers to utilize the strategic support of our Edwards interns to modify and enable the ongoing success of their businesses."
Current or recent Edwards undergraduate and graduate students will be eligible to participate in the program. Each internship will be designed to analyze opportunities and provide strategic support to help organizations adapt and grow their business during the COVID-19 pandemic. Any project selected can address one, or a combination of, business strategy problems related to marketing, operations, finance, accounting, or any other business field.
"We are excited to build and strengthen connections and collaborations with the business community," said Dr. Marjorie Delbaere (PhD), associate dean, Research and Faculty Relations. "Our Edwards students can provide the problem solving, innovation, and business skills that will make a real difference in your business."
Edwards has contributed $100,000 to the placement of 40 students to be matched by partner organizations. Mitacs has reserved $200,000 in matching funds to support placement of up to 40 students through this enterprise for a grand total of up to $400,000 for student funding support.
Employers who wish to hire an Edwards summer research intern can learn about eligibility requirements and the application process by visiting the
Mitacs Business Strategy Internship program page
. Edwards staff will screen the applications and match intern candidates with employers and academic supervisors. Successful applicants will be contacted to submit formal applications.
---