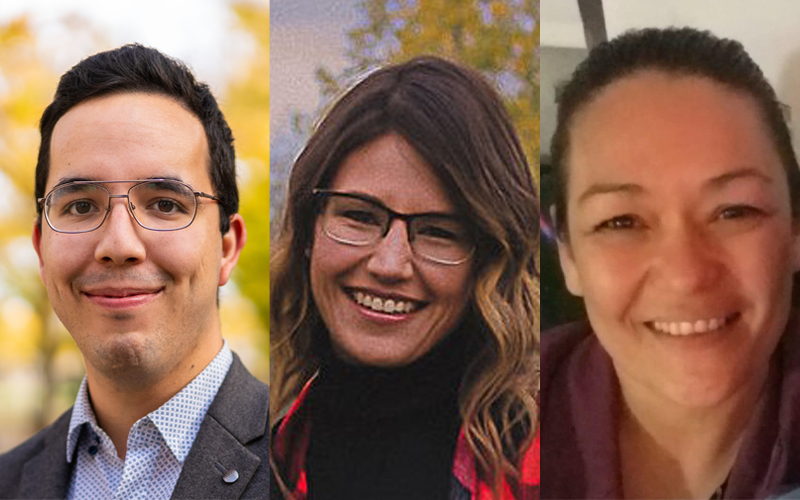 Celebrating Indigenous Achievement Week in the Edwards School of Business
Brittney Holweck

This year's Indigenous Achievement Week (IAW) took place from February 1-5th. During the annual event, students came together to celebrate the successes, and contributions of the Métis, First Nations and Inuit students, staff, faculty, and alumni at the University of Saskatchewan (USask).

Throughout the first week of February, the USask campus community can take part in a variety of activities including, beading and bingo sessions, panel discussions and expositions as well as listening to guest speakers' present regarding the year's theme. This year's theme was chosen by Indigenous students across USask, nīkānihk itohtētān, Walking Together into the Future.

The Indigenous Business Student's Society (IBSS) also hosted its first Indigenous Achievement Week Conference on February 4-5th in collaboration with USask Alumni, the Edwards School of Business, the University of Saskatchewan Student's Union, and the Edwards Business Student's Society. The two-day conference was held virtually and in place of their annual gala, due to the pandemic. But regardless of the location, 253 people registered for the event, as it continued to recognize similar goals of celebrating all Indigenous students' success, building relations for the future, and expanding knowledge.

"The conference is a chance to reflect on how far Indigenous people have come and to be proud of one another," said Jessica Mirasty, Co-founder of the IBSS. "The education system was built on a Western World view that has not always treated Indigenous people in a favorable way. The IAW conference is a chance to celebrate and encourage these Indigenous change makers to continue what they are doing as they are respected and admired throughout the Indigenous community. We are paving a way for future Indigenous student leaders to make sure that their voice is heard and that they have someone to look up to when they feel alone in their studies."

The IAW Conference included sessions on Navigating Indigenous and Non-Indigenous Businesses, Student Journeys, Cultural Showcases and more. The focus of the Walking our Futures Together session, was on celebrating the journeys of Indigenous USask alumni and their experiences with education and culture. The speakers and change makers encouraged Indigenous students to pursue university, if that is their passion, and to be the voices that have been missing for generations by putting in the work, to create a better future for the next.

USask alumni also shared insights and wisdoms with current students and conference attendees.

"Be comfortable with your own pace and recognize that your pace might not be someone else's." Morgan Kalk, B.Comm. '20

"University taught me how to navigate between Western and Indigenous knowledge and share the value and the beauty of how these two systems can work together." Jessie Fiddler-Kiss, B.Ed. '10

"Be okay with the choices you make if you are doing what is the best for you." Jason Mercredi, B.Ed. '09

Exploring the future together, Anthony Johnson the keynote speaker for the IAW Conference, shared his story on the importance of practicing resilience to succeed despite the challenges surrounding us all.

He shared insight on how to navigate complex situations like the recession and the current pandemic. With no jobs available and seemingly no prospective future, resilience becomes an essential component to ensure the situation does not dictate our choices or limit our opportunities.

"Adjusting your expectations, accepting what is happening and identifying the circumstances and what you can do, are the steps for forging a pathway forward," said Anthony Johnson. "If you do not know what is going on around you or with yourself, how can you move forward."

Another highlight of the week was the Indigenous Student Achievement Awards Ceremony, honoring academic achievement, leadership, resiliency and community engagement.

The Edwards School of Business recognized Brayden Caron, Allyn Eger, and Lori Waterhen for leadership, community involvement and resiliency:

Leadership Award:
Brayden Caron

Brayden is from the small town of St. Louis, Saskatchewan, and a member of the Peter Ballantyne Cree Nation. He is a fourth-year student at the Edwards School of Business, majoring in marketing and is very active in the student community. Brayden is currently the Headperson of Students Supports for the Indigenous Business Student's Society and a member of the EBSS and JDC West student organizations.

Community Award:
Allyn Eger

Allyn is a member of the Ahtahkakoop Cree Nation and a Chartered Professional Accountant. She has a Bachelor of Commerce in Accounting from the Edwards School of Business and recently returned to Edwards to pursue her MBA. Allyn is also actively involved in the community, volunteering as treasurer on the Business and Professional Women of Saskatoon Board, as well as sitting on the CPA ASSIST Program Board. Allyn possesses exceptional leadership skills, professionalism and work ethic while also focusing on continuing education and spending quality time with her son and husband.

Resiliency Award:
Lori Waterhen

Lori is a member of Ministikwan First Nations and a fourth-year student at the Edwards School of Business, majoring in business management. As a single parent of four children, Lori understands that life is full of challenges and by believing in herself, embracing change and practicing resiliency she is better equipped to handle the adversity that surrounds us.

The Edwards School of Business congratulates Brayden, Allyn and Lori on their achievements and success.
---