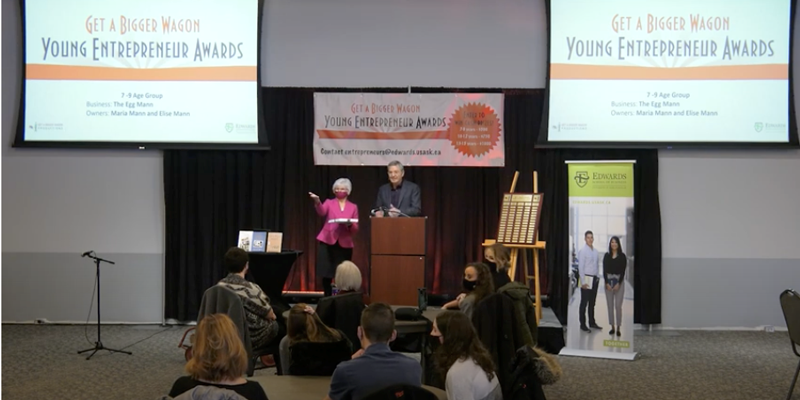 The 14th Annual Gordon and Maureen Haddock Entrepreneurial Speaker Series
Brittney Holweck

Quinn Boutin's business is all about "helping people bring their memories back to life."
She saw a need to transform memories before they were forgotten or deteriorated. By taking projector slides, VHS tapes, and individual photos, she can digitally convert your memories to last forever.
The 14-year-old owner of Flashback Digital donates a portion of her profits to a charity in Guatemala.
Quinn is just one of the recipients of the Get a Bigger Wagon Young Entrepreneur Awards, which were presented as part of the 14th annual Gordon and Maureen Haddock Entrepreneurial Speaker Series held virtually by the Edwards School of Business. This year it also featured a new category for ages 16-18 and a recognition award for those who promote entrepreneurship in their community called, Sailing the Entrepreneur Ship.
Young entrepreneurs across Saskatchewan between the ages of 7-18 with existing businesses were encouraged to enter for a chance to win a cash prize. The application process required submitting a two-minute video and a basic profit and loss summary of their business.
The Get a Bigger Wagon Awards goal is to expose the idea of entrepreneurism to young people, encourage them to start companies, and recognize and reward their outstanding ideas and hard work.
Quinn will be able to use the prize money to purchase new equipment like an 8-millimeter camcorder and expand her company's capabilities into photo and video editing.
The husband-and-wife team, Gordon and Maureen Haddock, started the Entrepreneurial Speaker Series at the Edwards School of Business to expose students, faculty, staff, and the entire community to entrepreneurship.
Despite the pandemic, the spirit and energy that the speaker series has become known for, was captured through a YouTube premiere and live Q & A session via WebEx.
Saskatchewan success story and entrepreneurial inspiration, Percy Hoff, was selected as the 2021 guest speaker. Hoff is the president of DSG Power Systems Inc. and a USask alumni. He shared his experiences and lessons learned with students, faculty, and community members about apartheid in South Africa to founding a niche business in Saskatchewan.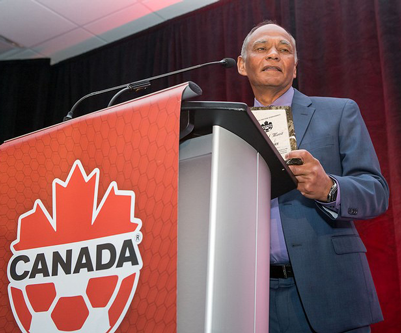 He started Saskatoon Diesel, a successful rebuilder and remanufacturer of diesel fuel injection components. Through his love of soccer, he also created the Valley Soccer Association, coached the USask soccer team in addition to the provincial and Canada Game team, and is the director of coaching and player development at ASTRA Soccer Academy and the Hollandia Soccer Club.
Growing up in South Africa, Hoff's employment opportunities were restricted, but his business experience taught him respect, resilience, and responsibility, all of which contributed to his strengths. In terms of his athletic career, it required a lot of determination, but he developed the characteristics that would help him succeed in business, by putting in hard work and sticking with it.
Hoff offered a word of advice to aspiring entrepreneurs.
"Be vigilant, watch your numbers, and surprise people by doing random checks on different things," said Percy Hoff. "By not letting people get too comfortable, you can decrease the chance of theft."
The results of the Get a Bigger Wagon Young Entrepreneur Awards are as follows:

Children aged 7 to 9:
The Egg Mann
Maria Mann and Elise Mann
($500.00)

Children aged 10 to 12:
Reverse 7M Cattle Company
Mia Mackie
($750.00)

Youth aged 13 to 15:
Flashback Digital
Quinn Boutin
($1000.00)

Youth aged 16 to 18:
Lachlan's Photography
Lachlan Kinnaird
($1500.00)

Sailing the Entrepreneur Ship Award:
Roadways Literacy Entrepreneurship Program
Sheila Erickson
($1500.00)
Thank you to Gordon and Maureen Haddock for making this event possible.
Watch Percy Hoff's presentation and the Get a Bigger Wagon Young Entrepreneur Awards here.
---