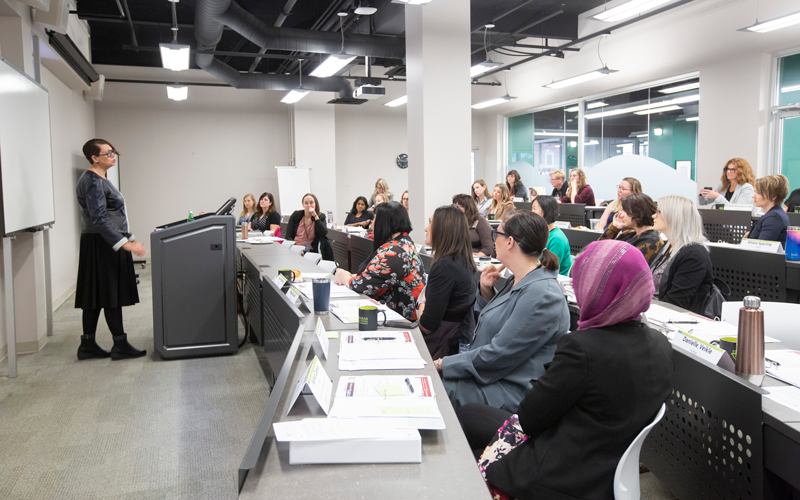 All good things come to an end - flagship Womentorship program winds down
Natasha Katchuk

After 13 years of bringing together women to grow and guide one another as mentor-protégés, the Betty-Ann Heggie Womentorship Program at the Edwards School of Business (Edwards) is winding down.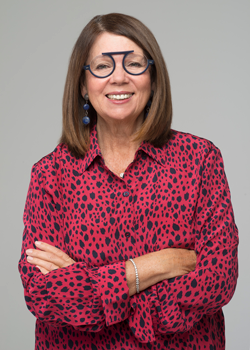 Womentorship was the brainchild of Betty-Ann Heggie, an award-winning speaker, author, and philanthropist. She had been a champion of womentorship throughout her corporate career as a former Senior Vice-President with PotashCorp (now Nutrien) and most recently in retirement through her foundation.
"All companies benefit from having more women in leadership positions, but some women need guidance to find their voice," explained Heggie. "I wanted women to have that opportunity, and I wanted companies to get these opportunities too."
The partnership began in 2009 between the University of Saskatchewan (USask) and Betty-Ann Heggie. As the first of its kind in Saskatchewan, its goal was to support women in finding personal and professional fulfillment while staying engaged in their organization.
"The Betty-Ann Heggie Womentorship Program shifted the way we think and talk about mentorship in Saskatchewan," said Dr. Keith Willoughby (PhD), Dean of the Edwards School of Business. "Betty-Ann had a vision for the future of women in the workplace and the Womentorship program achieved remarkable success with her at the helm. It created a supportive environment where women could thrive and remain engaged in their organizations. Edwards is grateful for her years of wisdom, expertise, and guidance in this transformational program."
Over the course of the program's run, 300 connections were made between protégés and womentors who had 15 or more years of professional experience. The mentoring relationship was designed to grow over personal meetings, networking, and professional development seminars throughout a year-long schedule.
Heggie said it was gratifying to see many women mature and make the transition from protégé to womentor.
"The Womentorship program is an important chapter in the progress of Saskatchewan women," said Heggie. "I watched as the protégés in our program walked with more confidence, took charge of their careers, developed important contacts, and fearlessly faced opposition in male-dominated businesses."
Andrea Hansen who is a Benefits Advisor and President of Sutton Benefits & Pension is one such example of this full-circle journey.
"When the opportunity arose to join the Betty-Ann Heggie Womentorship Program, I knew I had to be part of it and joined as protégé," said Hansen.
Now a womentor herself, Sutton said she rejoined the program as a Junior Womentor and eventually a Womentor to share lessons learned and help celebrate other's experiences wherever they are on their journey.
"Through Womentorship, I was able to connect with a group of amazing and talented women who share a purpose to grow and learn," explained Hansen.
Heggie said the interaction of the protégés and womentors was truly what made the program flourish.
"There are now many more options for women to get mentorship in Saskatchewan than when the program began," said Betty-Ann Heggie. "I have a deep and sincere appreciation to Edwards for hosting and administering the Womentorship program since its inception and know there will be more fruitful opportunities for the women involved."
While the statistics of the Betty-Ann Heggie Womentorship Program are impressive on their own, boasting 273 womentors, 266 protégés, 56 guest speakers, and over 120 sessions, it goes beyond that.
The program created a community beyond the classroom with the protégés leaning on each other and making connections with their womentors and their network. Events like LUNAFEST, a traveling international film festival featuring films by and about women, brought a community together in Saskatchewan.
"Two important outcomes of a mentorship program should be growth and connection," said Rachelle Brockman, lead facilitator of the Betty-Ann Heggie Womentorship Program. "And I believe these were achieved. I am grateful for the experiences of growth and connection the program provided, as well as the amazing women who made it happen. At the top of that list is, of course, Betty-Ann herself."
With the program winding down, the Edwards School of Business applauds Betty-Ann Heggie's vision and the contributions from womentors and proteges alike in improving the progress of Saskatchewan women.
The Edwards School of Business sincerely thanks Betty-Ann Heggie for her generous financial support, guidance, and enthusiasm in making the program a success.
---