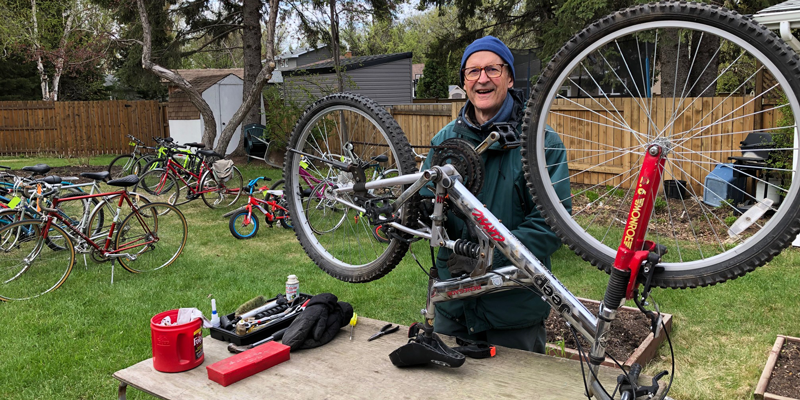 How Les Ferguson has turned repairing a few bikes, into a business.
Les Ferguson stumbled across a few bikes in a back alley of Saskatoon. He has now created a not-for-profit business repairing and donating bikes.
Maya Gauthier

Les Ferguson is an Edwards alumnus who completed a Certificate in Business in 1995. Prior to that, Les accomplished a Bachelor of Arts and a Master of Education from USask. Following his post-secondary journey, Les worked at a program called 4-H in Kirk Hall, on the USask campus. The 4-H program is involved in empowering Indigenous youth. The 4-H program is prominent throughout North America with 3,000 youth members from ages 6 to 21. He then transitioned over to freelance work in consulting. Les later became an executive director for the Saskatoon Preschool Foundation. This foundation works in financial aid for parents who want their child to attend Preschool. Les retired after this endeavor.
When asking Les about the path he took to business, he discussed a time in his life when he attended monthly meetings in a small business group. He explained that this was not business in the usual sense, but something to explore different opportunities. "I think it was at that point where I developed an interest in this certificate program in business administration, said Les. "To me, having an MBA wasn't in the cards with a young family and so on, but taking a class every semester for two years kind of made sense."
Les discovered his interest in bikes many years ago when he took grade 9s and 10s to Jasper National Park. the young bike riders cycled daily, each covering the entire distance from Jasper to Banff, and of course, there would be hiccups along the way. "There would be flat tires and all kinds of simple issues. Nothing really extravagant," Les explained. Les carried a set of tools to fix bikes along these excursions. When Les found those few bikes in a back alley of Eastview, it sparked a similar interest in them. He started talking to the woman who had left these bikes. He asked her if he could take the bikes, though broken and small. She agreed quickly. "That got me started;" Les explained. "The next question was, well, what do I do now?"
Les started fixing and repairing bikes in his backyard. He eventually got in touch with organizations like the White Buffalo Lodge and the Saskatchewan Intercultural Association. Through these programs, he has been able to donate the fixed bikes to Indigenous youth and potential refugee families. The four bikes in an alley turned into 100 over the summer of 2021. "All 100 bikes were different;" he said.
Les discussed how significant his certificate became in the furthering of his donation-style business. "I use the learnings of marketing on Kijiji and in my community news." As a result of a small ad this year, Les has already acquired 15 bikes. "Even with these small marketing efforts, I have learned how helpful they are to a business." Les has also found his learning in Excel to be very helpful in tracking the bikes he has received and fixed. He credits this skill to his time at Edwards.
If anyone reading has a bike they are looking to donate, Les accepts donations through his email address. He can be reached at les.ferguson@sasktel.net. Edwards is proud to have such inspiring and hardworking alumni.
---