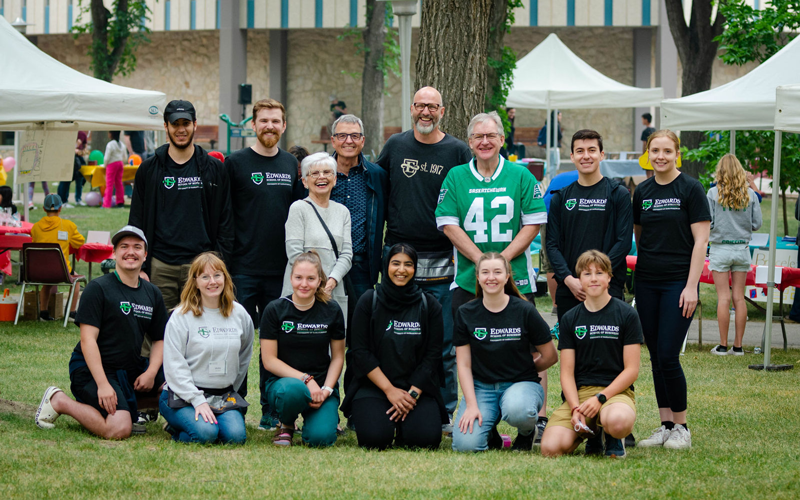 Celebrating youth entrepreneurship at the second Edwards Entrepreneurship Youth Summer Camp
Aiden Ryde

During the month of July, the Edwards School of Business hosted its second Edwards Entrepreneurship Summer Youth Camp to introduce children ages nine to fourteen to business principles and how to use their entrepreneurial mind.

Campers spent a week learning business principles that they applied to an idea to create a product or service. At the end of the week, they had the ability to sell their business idea at a business fair taking place in the USask Bowl. This created a fun learning experience about the process of starting a business and rewarded them with a tangible product in the end that they could hopefully make a profit in the end.

There was a total of 40 campers, and 31 businesses at the camp this year. These businesses varied from framed photos, to bracelets and necklaces, to iced coffee and many more.

Although making a profit was not the goal of the camp, each camper was able to pay back their business loan and most left with a net gain.

"Honestly, this camp is not just another summer activity – it is a launchpad for our youth," explained Brandon Johnson, camp coordinator who organized and took the lead role in running this year's camp. "Here, they get to really understand the nitty-gritty of business and finance, the kind of practical knowledge that might not always get enough spotlight in a regular classroom."

The campers were split up into two groups based on age. Both groups walked through the process of ideation, understanding operations, building team skills, financial elements, and determining if they were in the correct market.

The learnings focused on creativity, willingness to take an element of risk, encouragement for campers to put themselves out there and adding a creative perspective to different facets of life. Organizers wanted to broaden the campers' thoughts on entrepreneurship beyond just starting a business and how they can use these skills today, in their schoolwork or sports.

"To me, this is where the real value lies in our camp – it offers a hands-on, real-world experience that seamlessly ties in with their school education, it is a necessary bridge," explained Johnson.

The camp was made possible for the second time by the generous support of long-time donors and friends of Edwards School of Business, Gordon and Maureen Haddock. Both natural entrepreneurs, the Haddocks are passionate about sharing their love of entrepreneurship.

They founded the Gordon and Maureen Haddock Entrepreneurial Speaker Series at Edwards, which celebrated its 16th anniversary in January 2023. This event invites an entrepreneur to share their story with Edwards students and alumni to inspire them by what is possible to achieve through entrepreneurship.

The idea of the Entrepreneurship Camp is not the first time the Haddock's have invited youth to answer the entrepreneur call. In 2015, in collaboration with their speaker series they launched the Get a Bigger Wagon Young Entrepreneur Awards where youth aged seven to eighteen can compete in three categories for a cash prize for best business.

"My favourite part of the camp was when we started production and we got to make all of our different products," said Will Karsgaard, an attendee at the camp. "I also liked when we got to practice our displays, so we knew how to lay out everything for marketing."

A frequent comment from campers was that they wished the camp was longer, lasting two weeks as opposed to just one. This comment will certainly be taken into consideration in the years to come.

If you are interested in learning more or want to be the first to join a waitlist, follow Edwards School of Business on LinkedIn or Facebook so you do not miss it!


If you are interested in participating in next years camp, view the webpage here.
---