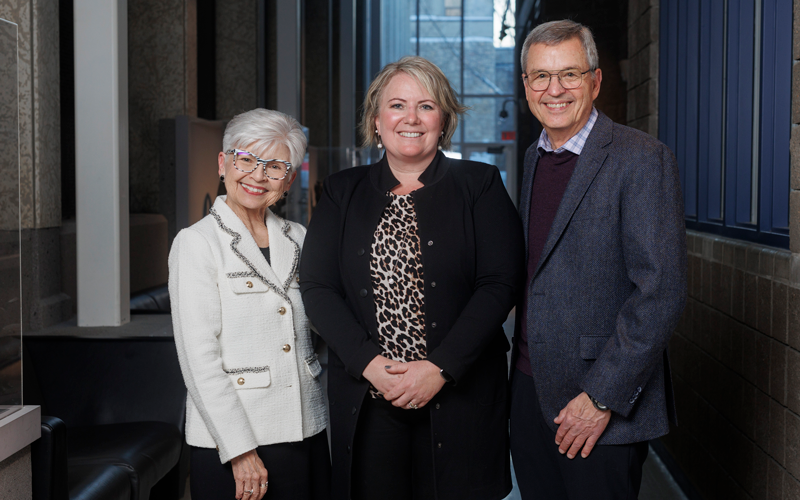 Cindy Lowe speaks about financial literacy, entrepreneurial spirit, and the power of education at the 16th Annual Haddock Entrepreneurial Speaker Series
Aiden Ryde

The Haddock Entrepreneurial Speaker Series (HESS) exposes students, faculty, staff, and the entire Edwards School of Business community to individuals who possess high entrepreneurial spirit. The 16th annual Haddock Entrepreneurial Speaker Series brought to Saskatoon, Cindy Lowe (B.Comm. 1996). Her presentation, Financial Literacy and Entrepreneurial Spirit: Pre-Requisites for Life, shared insight into her life and the journey that led her to where she is today, and the direction she wants the Canadian education system to go.
Lowe has gained a very extensive portfolio of achievements and awards throughout her professional career that highlight her entrepreneurial spirit. She is the President of Saskatchewan Business Teachers' Association, a chairperson of the Great Plains College Board of Governors, and on the Board of Directors at Saskatchewan Polytechnic. She has also been awarded the YWCA Women of Distinction for Education and the Queen Elizabeth ll Platinum Jubilee medal.
Following her graduation in '96, Lowe moved on to pursue work in finance, and put her newly gained knowledge to use. To her surprise, it became quickly evident that the concept of personal finance was foreign to most of her clients, and she often ended up having to teach them the basics. This sparked the turning point for her career, and she realized financial education was an immediate need.
Lowe then went on to pursue her Bachelor of Education at the University of Calgary, and then later her master's in education at the University of British Columbia. Today, she spends her days teaching financial education at the comprehensive high school in Swift Current, Saskatchewan.
Lowe's end goal is for, "all Saskatchewan secondary students to be provided with a mandatory Financial Literacy Course before graduating from high school with trained business teachers to deliver these courses and this becomes a part of high school graduation requirements across Saskatchewan, and eventually all of Canada."
She explained how everyone is involved with money in many aspects and thus, have the right to learn how to spend, save, and invest it properly. Business education is not only a basic human right but is also a great equalizer to break down barriers whether that be age, gender, or race.
Having had such extensive education in finance, she suggested that a comprehensive re-evaluation of debt and credit is needed immediately across central Canada. A term known as FOMO (fear of missing out) spending is attributed to a significant amount of the debt in central Canada. This is due to the instant society we live in today, likely worsened because of the Coronavirus Pandemic.
Lowe concluded that kids today need to learn and be encouraged to think entrepreneurially and be able to persevere and overcome hardships. The world of work is constantly changing, and current youth need to be able to adapt to this changing workforce. Entrepreneurship is the foundation of Canada's economic recovery which is crucial for the wellbeing of business in Canada.
Students that have taken the Financial Literacy Course offered in high schools across Saskatchewan have noted it was one of the most important and beneficial classes they took in their high school career. Based on this, and Lowe's presentation, it is clear there is a need for this education and there is no better time than now to make it happen.
If you want to learn more about financial literacy and entrepreneurial spirit, consider registering in COMM 101, an online business course offered by the Edwards School of Business. With COMM 101 Early Start, students will learn about topics such as personal finance, the importance of entrepreneurship, and mastering financial management.
Watch Cindy Lowe's presentation and the Get a Bigger Wagon Young Entrepreneur Awards here.
---