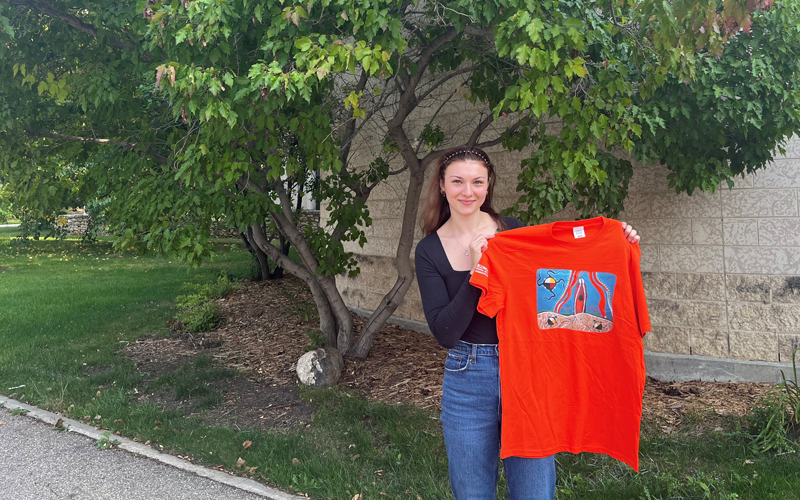 Dante Carter unveils orange shirt design: "Astam my child, we can heal together"
September 30 is the National Day for Truth and Reconciliation and Orange Shirt Day. Edwards sat down with Dante Carter (B.Comm. 2023) to talk about the design and process of the Edwards Orange t-shirt.

Please tell us a bit about yourself:
My father has always policed in Indigenous communities and my mother has always taught in or around these communities, so I grew up living on reserve or nearby. My parents have always been active parts of the Indigenous community with my mom organizing after school clubs for students and my dad working to bridge the relationship between the RCMP and Indigenous community. I also got to spend a lot of time within my First Nation community by staying with my grandparents. They taught me traditional teachings and land-based practices that I was able to interweave into my university experience.
Where are you from?
My home community is Onion Lake Cree Nation. I grew up there, as well as moved around northern Saskatchewan.

What drew you to apply to Edwards?
I originally did not plan on going into business but found the smaller class sizes and direct program appealing. I also realized that there is a lot you can do with a B.Comm. in various industries or fields.

What clubs/groups were you involved with on campus?
I was part of the Indigenous Business Students' Society and the Edwards Business Students' Society. I could not be more thankful for the opportunities that these groups gave me!

Why was being involved with the Edwards Indigenous Initiatives Working Group important to you? How did you come to join the working group?
Being a part of the Edwards Indigenous Working Group provided me with a way to make a lasting impact within Edwards. I received this opportunity because of my involvement with the Indigenous Business Students' Society and for my involvement with similar groups. It allowed me to collaborate with others who are also passionate and driven to Indigenize education. I was hopefully able to create an even better Edwards experience for other Indigenous students!

How did the idea of the Edwards orange t-shirt come about?
This group wanted to show support for the Indigenous community throughout the year. After multiple brainstorming sessions, the idea of creating our own orange shirts was born! We were set on finding an Indigenous artist to collaborate with. We wanted to do the project in a good meaningful way.

What was/is the inspiration behind this design and what does it mean to you?
I come from a family of residential school survivors, and they never really talked about their experiences. It was not until a couple of years ago that they shared some of their stories with us about their horrific experiences. In a way, I think that others acknowledging that "this happened" helped my family to process this trauma because we could openly talk about it. We knew it happened, but sharing their stories provided a sort of healing.

What's next for you now that you've graduated?
I will be attending UBC - Okanagan in the fall for an Interdisciplinary Masters. I am focusing my thesis on Indigenous economics and resource allocation.

Is there anything else you'd like to share?
I think it is important to acknowledge this design as an interpretation of my family's experience as residential school survivors. It is a story that I was told and that I keep close to me. There are so many survivors that have not had their stories told and I am honoured to be able to share something so close to me.
Artist's statement:
Title:
"Astam My Child"
Medium:
Acrylic on canvas.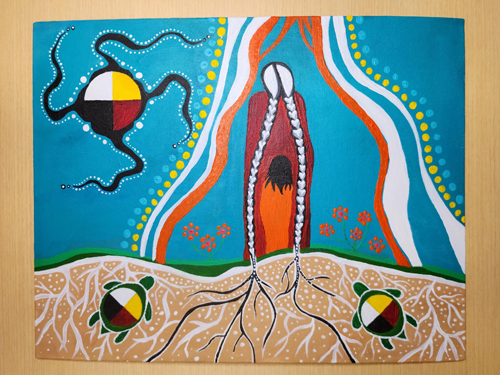 Description:
 "Astam my girl." I can vividly hear these words that were spoken to me as a child and well into my adult life. Astam (come here) my girl, spoken to me by my grandparents, that to me, held so much meaning. These inviting words, sometimes spoken softly, sometimes not so, always brought me towards a family member with open ears. It was often to whisper that there were leftover cookies or some type of sweet hidden away that I was given detailed instructions to find. At other times, I was grateful to be invited to come sit and listen to stories or teachings from my "Chapan" (great grandmother) or my Mushum (grandpa), mostly about Mother Earth and her birds. Looking back, I cannot recall any stories about their experiences at residential schools, yet both were survivors. This painting is inspired by those stories that were never told, for those who survived but were silenced by trauma, and those who are with our Creator and have stories that are just beginning. The children taken and inner child of survivors, that are only now okay to be comforted and grieved aloud. "Astam my child, we can heal together."
The Indigenous Initiatives Working Group in the Edwards School of Business is working towards decolonizing our spaces and upholding our commitment towards reconciliation. One of these initiatives is uplifting Indigenous art and artists within our Edwards community.
---