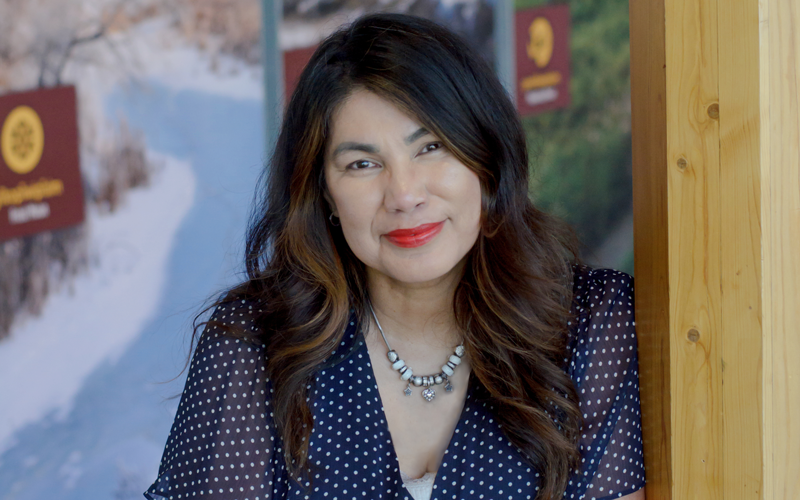 Journey of leadership and cultural sustainability: A conversation with Darlene Brander
Aiden Ryde

Tell me a little bit about yourself and your background. 
I grew up in Carrot River, SK and am a member of the Red Earth Cree First Nation in Northeast Saskatchewan. I have a Bachelor of Education degree from the University of Saskatchewan, as well as a CHRP designation. Right now, I am the CEO of Wanuskewin Heritage Park and I have been at Wanuskewin for the past four and a half years now. I am applying all the skills and knowledge I gained from the Graduate Certificate in Leadership program to my current role. 
Tell me about the cultural sustainability work you're currently doing to have Wanuskewin named a UNESCO World Heritage site? 
At Wanuskewin, we have been working on cultural sustainability in several ways which includes having strong partners like the University Saskatchewan. We've entered MOUs with educational institutions like Saskatoon Public Schools and Greater Saskatoon Catholic Schools. We also entered into initiatives like Indigenous Guardians program, which allows Wanuskewin to hire Indigenous youth to work on the land. The work that they do as Indigenous youth is also informed by Indigenous knowledge keepers and elders. This infuses that Indigenous way of doing into land management that really works towards cultural sustainability. 
What role do you believe leaders play in promoting sustainability within their organizations? 
I want to be a good role model for all the staff at Wanuskewin by championing and supporting important cultural initiative sustainability programs. As leaders, we have a platform that affords that ability and so it is our due diligence to act upon it. As a leader, you must figure out what sustainability looks like for your organization and champion that.  
What drew you to apply to the GCL (Graduate Certificate in Leadership) program? 
I want to be the best leader I can be. I am always looking to add to my toolkit and to be at the top of my game as a leader and that is where the GCL program came in. It was attractive to me because it was a shorter program, but it allowed me to gain knowledge, skills and abilities and challenge myself. I have not been back to school in about 20 years and being able to get back to academics was really appealing to me.      
What do you feel you gained from the GCL, both from a personal perspective and professional perspective? 
Through both personal and professional perspectives, I advanced my knowledge and skills and through group presentations and through developing my communication skills, both written and oral. It was good to be part of a cohort with such a diverse group of individuals. I worked with people that that I would not necessarily meet in my everyday working life. This really set the stage for growth because it takes you out of your bubble and then puts you into a wider network that helps grow you.  
What would you say to anyone thinking about participating in the GCL program? 
If you have been out of school for a while, do not let that be an obstacle for you applying. It is going to be hard, but it is going to be worth it. The cool thing about the GCL is that you can get out of it what you put into it. The GCL is a high value investment in your future that you can put to work, at work. 
Visit the Edwards Graduate Certificate in Leadership program page to learn more or chat with a staff member. The Edwards GCL program supports current and emerging professionals from all backgrounds who want to elevate their careers and be effective leaders locally and globally. More than a credential, you will have increased self-awareness and heightened inner potential to make an impact through leadership.   
---