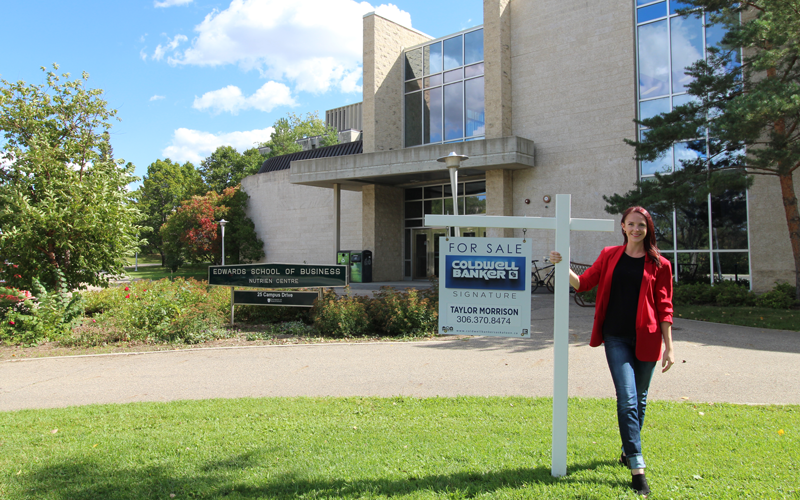 The curb appeal of an Edwards degree
New alumna Taylor Morrison helps buyers and sellers find their dream properties.
Natasha Katchuk

Taylor Morrison is passionate about building relationships.
When looking at post-secondary options, Morrison said Edwards was the right choice because of all the experiences offered by the school. Looking back on her degree, she explained: "It had a lot to do with the people I met, the associations I joined and the activities I participated in or helped create."
During university, Morrison took advantage of the co-operative education program, was on the Marketing Students Society, and remained very active in the Francophone community. She was a member of the Association jeunesse fransaskoise (AJF), a provincial youth association for French-language speakers, and became the president of the board in her last year of university. Morrison was also the Saskatchewan representative for the Francophone Youth Federation of Canada, a national organization that promotes French language across the country.
"It has provided many different opportunities for me," said Morrison. "And to pay it forward, I am passionate about providing the same avenues to others who want to express themselves through the French language."
After two years of university and a summer working for the family real estate business, Morrison said she knew she wanted to make a career of it.
She is now a team member part of the reputable family business, Morrison Morrison Realty with Coldwell Banker Signature, which has been going strong for over 30 years.
"The team provides extensive industry knowledge of the Saskatoon region, and am I able to infuse my marketing expertise gained throughout my degree at the college. The combination makes us the team we are."
While some might ask why Morrison completed her degree since she already knew what she wanted to do, Morrison said it was the value-added aspect that was the biggest benefit.
"The lessons I learned in COMM 358 on sales management from William Murphy and in COMM 498 on personal selling with Sandee Reed are two of many examples that I reference daily," explained Morrison. "After completing your marketing degree, you come to realize working and maintaining relationships with people truly comes down to a science. These classes helped me break down the selling process, strategize, and create a tool kit that has helped me significantly."
In her role as a real estate consultant, Morrison said no two days are ever the same. Although they start the same with a morning workout and industry research, before a huddle with the Morrison Morrison Realty team, the rest unfolds based on her client's needs.
"My day could involve anything from scheduling meetings, completing market evaluations for a seller, listing and promoting properties, creating marketing material, to hosting an open house," said Morrison. "One thing remains the same, and that's helping sellers list their home and buyers find their dream properties."
When it comes to advice for students, Morrison said to take advantage of every opportunity that presents itself.
"If something tweaks your interest, just do it," said Morrison. "You'll get something out of it. Those opportunities aren't anywhere else but here."
Morrison Morrison Realty is a preferred partner of the USask Alumni Association. Ask for Taylor Morrison and mention that you're a USask alum. Receive a $500 gift card at the store of your choice within 15 days of a finalized real estate deal and/or possession of a property. Visit allsaskatoonlistings.com for more information.
---