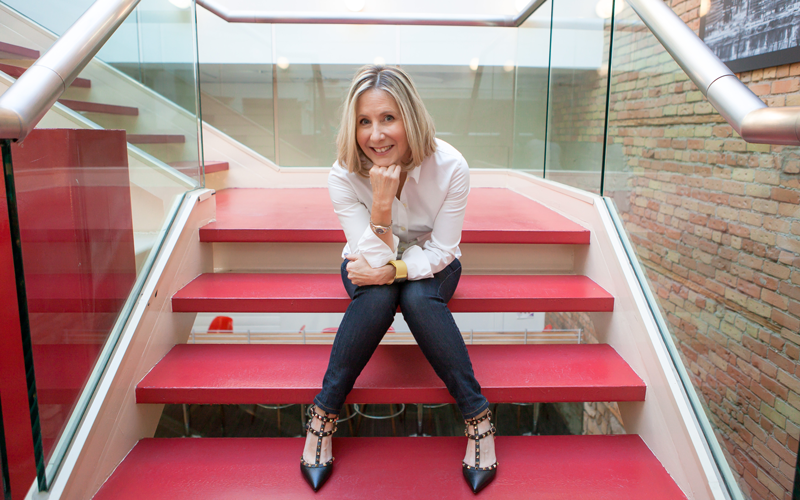 Born this way: Karen Stewart charts her own course with entrepreneurial thinking
Megan Cantwell

From the moment you meet Karen Stewart (MBA 1988) you're drawn into her energy. 
As a woman who has fought her way in typically male-dominated industries, Stewart has a passion for innovation and supporting women in business. Through her daily endeavors at Fairway Divorce Solutions to her passion projects like Bumble Bees Venture Capital, Stewart wants to change the way things are done. 
Stewart, an Edwards MBA alumna, was drawn to the program immediately after completing an undergraduate degree in science.
"I wasn't ready to be done school, and I loved learning," said Stewart. "I could follow others in my family and become a lawyer or a doctor, but I wanted to be different. The MBA was very prestigious and highly regarded in Canada, so I chose that." 
According to Stewart, it was the Edwards MBA program where she discovered her love of writing.
"Something clicked when I was learning management of information systems and I became a different type of writer," explained Stewart. "My professor mentioned I was great at writing for general understanding. Now I have my third book coming out with that very concept at its core." 
Of all the courses she loved in her MBA, Stewart remembers one paragraph that changed her life.
"There was one paragraph, in one textbook, and it described this word, a word I had never heard before, and it was "Entrepreneurship." I remember reading it and thinking "That's what I want to be!" and that was the beginning of my journey."
Stewart always took the road less traveled, and her MBA afforded her the prestige to do that. Before graduation, she was offered a job with an accounting firm in Calgary; an industry where, at the time, she was one of very few females.
"I had massive student loans and I didn't have the patience to wait around for five years to crack the glass ceiling and still not be guaranteed to do so. I left my job and went into finance. It was totally male dominated and I was over the moon." 
"Entrepreneurial thinking is with me every single moment of every single day. It's part of who I am."
Knowing she wanted more freedom to innovate and more control to make it happen, Stewart established an asset management company in 1992. She went on to sell it in 2010, which was just the beginning of a series of successful enterprises. Stewart has since launched and sold three companies, not including the ones she still owns.
"I think people are born entrepreneurs," said Stewart. "Entrepreneurial thinking is with me every single moment of every single day. It's part of who I am." 
Her current endeavour, Fairway Divorce Solutions, was born from her experience with a long and difficult divorce. Stewart recognized a gap existed and fought to fill it with a meaningful solution by building on her own mistakes.
"Fairway is ahead of the curve at taking on traditional matrimonial legal system in Canada, which needed to be disrupted," said Stewart. "It was much harder than I expected. Many times I felt like quitting – tenacity or stupidity, I just didn't give up."
As someone who has tried, failed, and succeeded, Stewart is proud of her journey and what it has taught her. It's no surprise when COVID-19 shut down the world in March 2020, she quickly brainstormed ideas to adapt her business.
"You've got to listen to your gut and do the research to support it," advised Stewart. "As a leader, I'm proud of how I adapted my cash flow with the mind-set that COVID-19 could be long-term."
What does the future hold for this persevering, female leader?
"I feel like I'm just getting started," said Stewart. "I finally feel like I know a lot, and I feel like I can share!" 
One way Stewart is sharing her knowledge is through Bumble Bee Venture Capital, a concept that snowballed into a successful female investor focused fund.
"Bumble Bee's whole mission is putting wealth and leadership in the hands of women to change the world," explained Stewart. "It's about women having opportunities to invest in tech. Women are the majority investors." 
A true entrepreneurial thinker, Stewart's path is clear but not defined.
"I'll continue doing what I do, but I absolutely want to start other companies," said Stewart. "I want to help others through speaking and sharing and I'm looking forward to the adventure."
Reflecting on her experiences, Stewart offered a word of advice to current Edwards students.
"Be the best you can be, but in order to be the best you can be, you have to be disciplined," advised Stewart. "Take one step at a time towards your goal."
---