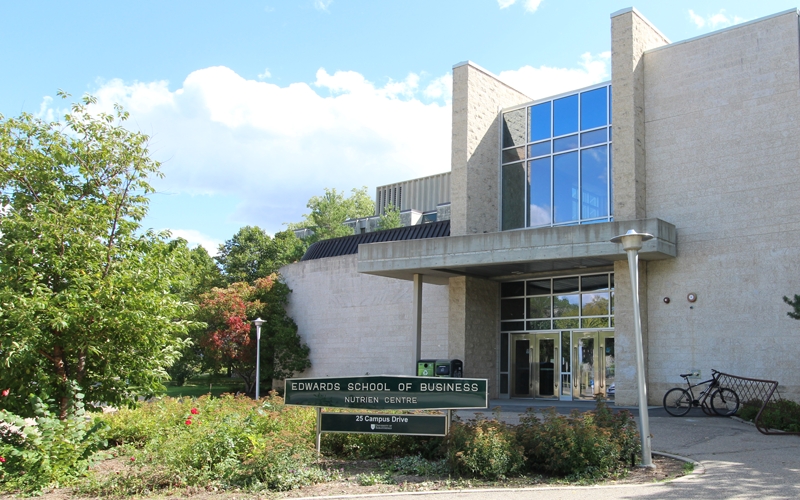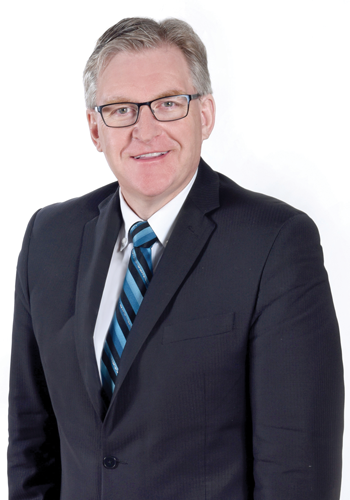 Welcome to the 12th edition of Thrive, our annual magazine for connecting students, alumni, staff, faculty and friends of the Edwards School of Business! We trust that the stories, images and perspectives captured in this edition will enlighten, inspire and impress.
March 11, 2020.
A day that will be etched in our memories forever. The declaration of a global pandemic curtailed our connectedness. Suddenly, our very conception of "normal" life was replaced with altered daily patterns and ongoing restrictions. A new word (COVID) introduced a new reality (masking and social distancing).
The Edwards School of Business was not immune to this impact. Merely eight days subsequent to the pandemic's declaration, all courses in our school adopted a remote delivery platform. Our lexicon was now littered with terminology such as Zoom, WebEx and lecture capture. The phrase—"sorry, I was still on mute"—became pervasive.
Against this backdrop of system-shattering circumstances, I am pleased to provide an opening note to this year's edition of the Thrive magazine.
Fittingly, our theme this year is perseverance. Perhaps at no other point in global history has our society been catapulted into the unknown. Quite simply, there is no playbook for a pandemic. We have been forced to adjust and adapt. But through the opaqueness of this environment, we have become better acquainted with the power of perseverance.
Read through these pages to learn about true stories of perseverance and dedication. Focus on the innovative excellence of Karen Stewart. Recognize the strength of Breanna Pochipinski's COVID experience. Relish in the overwhelming success of the Mitacs grant – for our talented Edwards students as well as several creative Saskatchewan businesses. Reflect on the scholarship launched through war veteran Alex Kowbel's tremendous generosity. Take pride in the research collaborations of Vince Bruni-Bossio and Lee Swanson, two celebrated Edwards faculty members. Explore the opening of the Gordon Rawlinson Finance and Trading Room, a landmark opportunity in our school made possible by a visionary alumnus. Perseverance is reflected on each and every page in this year's Thrive magazine.
Yes, this year has been challenging. Yes, it has involved assessing circumstances, evaluating risks and making "game-changing" decisions. Yes, I contend that this past year has been the most significant 12-month period in the history of Canadian post-secondary education.
But through it all, I have observed countless incidents in which members of the Edwards community stepped up and stepped out. We have launched ahead with our vision of being the Canadian leader in transformative business education and research. We have continued onward with our goals of creating an impact – whether it be in academic programming that transforms the lives of students, innovative research that uplifts organizations and communities, or meaningful relationships that enhance stakeholder engagement.
Underpinning our collective efforts exist a series of values that define us and refine us. These values existed pre-pandemic but have superbly demonstrated our pandemic perseverance. We recognize that collaboration and inclusivity are essential to success. The principles of integrity, entrepreneurial thinking and sustainability form the core of who we are – not just during pandemic uncertainty but forever.
I encourage you to peruse the contents of this year's edition. You will find stories of our Edwards community, our Nation Builders, doing that which is truly exceptional. You will see perseverance personified.
I believe there is light at the end of the tunnel. We will survive – and thrive. We will persevere – and prosper. We will do all of this – together.
Keith Willoughby
Dean, Edwards School of Business
---