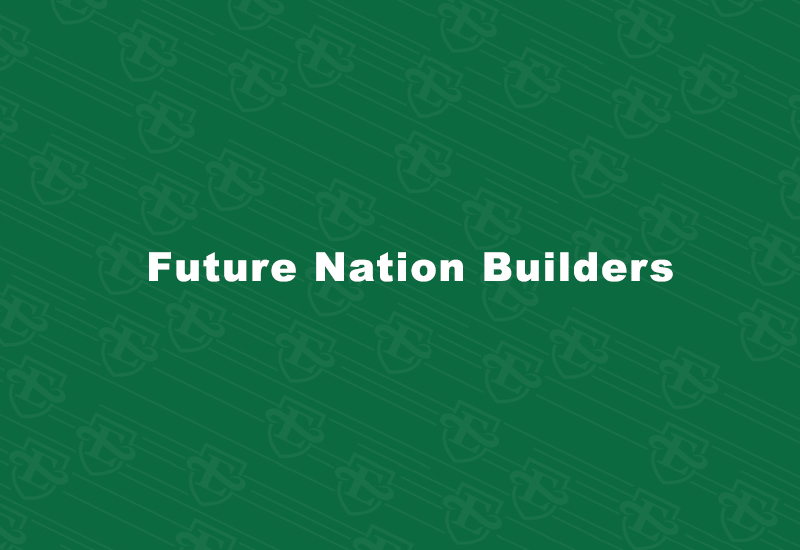 "We develop business professionals to build nations"
Breanna Pochipinski

Over the course of their degree, our B.Comm. graduates become nation builders. We spoke to some of our student leaders to gain insight on what they have taken from their time at Edwards and what they believe has made them a nation builder.
Aubrey-Anne Laliberte-Pewapisconias
Hometown: Saskatoon, SK. A member of Canoe Lake Cree First Nation in Treaty 10 Territory and Little Pine First Nation in Treaty 6 Territory.
Graduation Year: 2022
Major: Finance
Student Club Position: Head spokesperson and co-founder, Indigenous Business Student Society (IBSS)
Being involved in the IBSS meant that… I was able to amplify my voice to start something that was hopefully going to work towards reconciliation and decolonization within my college. I wanted it to become a community where Indigenous students could come together to thrive, share as one and become a support system that also paves a path for the Indigenous youth that come after us.
For the students of Edwards, the IBSS… allows for students to have a unified voice, learn from others, be part of the possibilities ahead, develop personal and professional skills, become aware of resources, support others, and overall, create a strong community of like-minded Indigenous students in commerce.
Each Edwards professor… I had has taught me something valuable but the educators that remain in my thoughts, and I believe will continue to even when I am done my degree, are Gary Mearns, Lorelei Nickel, Brian Lane, Amarjit Gill, Carolyn Augusta and Nathalie Johnstone. Each of these professors showed me a level of learning that was truly unique, and they genuinely cared for their students
Mitch Bellefleur
Hometown: Weyburn, SK.
Graduation Year: 2021
Major: Accounting
Student Club Position: President, Edwards Business Students' Society (EBSS)
I chose to go to Edwards… because in high school I loved my accounting and entrepreneurship courses, which led to my decision to pursue a business degree. When I started looking into different programs, the reputation of the Edwards School of Business definitely stuck out to me!
One of the biggest lessons I've learned as an Edwards student… is that as much as you plan and organize, your plans are not always going to work out, and that's okay. In the world we live in today, being adaptable is one of the most important skills there is.
After I graduate… I'll be starting full-time with Deloitte in Saskatoon as part of the Audit & Assurance team. Deloitte is where I completed my co-op term, so I'm extremely excited to be returning to the team! I'm also excited to say that I will be starting the Master of Professional Accounting (MPAcc) program in May 2021.
Chaoyang Wang
Hometown: Henan, China
Graduation Year: 2020
Major: Finance
Student Club Position: President, Edwards International Students' Society (EISS)
Being the president of the EISS… meant a lot to me. Before joining this club, I heard that the EISS provides services especially to international students and builds connections between international students and the local students.
My advice for students is'… to work hard and play hard. Push yourself to try your best, accept the responsibility to do your work, take advantage of the resources that the college and university offer, and have the desire for success. Also know how to relax and find balance in life.
During my time at Edwards I gained… a lot. My experience in Edwards benefitted me greatly and the most important thing I have learned is "work hard, and you will enjoy the results you achieved."
---