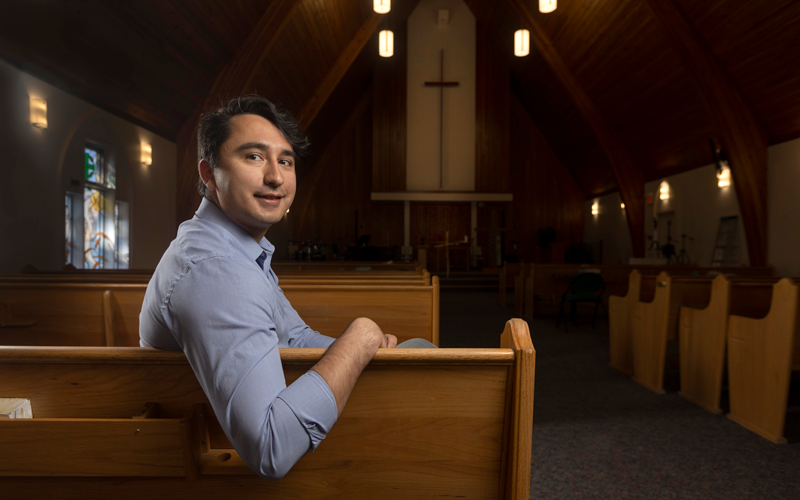 MBA alumnus Mitchell Anderson is thriving at the intersection of business and faith
Carlee Snow

Mitchell Anderson (MBA 2015) strives to make a positive change in the world through the organizations he is involved with.
Each Sunday, as lead pastor at Saskatoon's St. Paul's United Church, Anderson leads his congregation in song with the lyrics "go make a difference in the world;" his philosophy for everything he does. Through the skills he developed as a graduate student at the Edwards School of Business, Anderson is implementing this need for change in all areas of the business.
"The MBA program gave me a solid foundation in all business aspects, whether it be marketing or accounting, but also the skills for the human side of these disciplines," explained Anderson. "I learned the skills necessary to be a great leader, to build an organization to inspire change, and how to encourage others to do their best."
Each day, Anderson puts those MBA skills to use.
"I was hired to lead change with St. Paul's United Church," said Anderson. "As the world changes, the church also needs to change to stay relevant to society's current needs." 
Prior to the COVID-19 lockdown, Anderson had implemented an innovative initiative called messy church to reintroduce young families to the church community.
"Messy church gave children the space to do crafts and get messy, but it also gave me a chance to connect with their parents who are around my age," explained Anderson. 
"The knowledge you gain from other spheres of life is useful to your business education."
Bringing people together in a unique way is one example Anderson is leading change in the church to better connect with the public, and he does not plan to stop there. 
"I am excited to implement different opportunities like messy church in St. Paul's when things get back to normal," he said.
Anderson always knew his future would be with mission-driven organizations. While in high school, a woman from Anderson's church gave him a magazine with an article bookmarked about young adults becoming ministers. She was a woman he had great respect for and heeded her advice.
"Fifteen years later, I am doing what she said I should be doing. Listen to your elders! That's always my advice."
"I believe an organization dedicated to mission needs leaders with strong business skills to produce social change," explained Anderson. "That has always been my career trajectory, and I use the knowledge I gained at Edwards to lead organizations."
Coming into the MBA program, Anderson had an undergraduate degree in sociology and women and gender studies from the University of Saskatchewan. He believes that having a diverse background helped him succeed in both the MBA program and his multiple leadership roles. 
"The knowledge you gain from other spheres of life is useful to your business education. My background equipped me with the skills to look at problems differently from my classmates with different backgrounds. I could learn from them, but also, they could learn from me," said Anderson.
Having a mix of backgrounds is something Anderson values. He believes this variety provides a better learning opportunity because it more accurately represents society today.
"The world does not fall into our neat disciplines of engineering or business, health, or nonprofits," said Anderson. "It is complex and messy, so we need complex thinkers with complex backgrounds. The need for interdisciplinary people is greater than ever."
Anderson also thinks it is important to have leaders from different educational backgrounds and different cultural backgrounds.
"Both my mother and I are alumni of the Edwards School of Business (formerly College of Commerce), and I can see clearly how our lives have been changed from our time there."
Anderson and his mother are both Indigenous. He is Dene and she is Métis. Anderson wants to see more Indigenous accountants, lawyers, and business professionals in the future.
"I think our economy needs leaders as diverse as our population. It is important to have leaders from all backgrounds to take on future challenges."
---