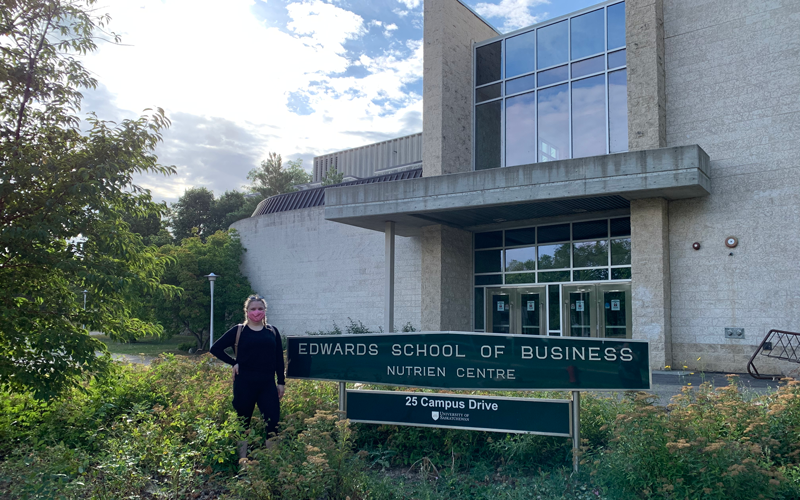 The global pandemic through the eyes of a Co-op student
Breanna Pochipinski

When I accepted my co-op placement as the Marketing Intern at the Edwards School of Business in October 2019, I could not have predicted how my work term would go in 2020.
For the first two months of my work placement, I had the chance to experience a wonderful and normal work environment, where I quickly learned how to work in marketing and communications in a higher education institution.
In March, I was entering the third month and becoming more comfortable with working independently. On March 11, 2020, the Edwards senior leadership team took over the conference room to discuss plans of action for the college during the impending seriousness of the COVID-19 pandemic. On March 16, 2020, like many other businesses, the University of Saskatchewan closed its doors and asked for staff and faculty to work from home.
Working from home was hard at the beginning. Trying to maintain a routine was a difficult feat, especially since the sun in Saskatoon was still slow to rise. Like many others, I tried to adapt as much as possible, with hopes of returning back to the office in a month or two once the pandemic settled down. With no word on when we would be returning by the end of March, I started to research different ways to motivate myself when working remotely. This transformed into the creation of a social media campaign to motivate the students, staff, and faculty of the Edwards School of Business as we worked and learned remotely. Through the use of Instagram Lives, students, staff and faculty were able to maintain active engagement with college specific information and pandemic news.
Along with figuring out how best to communicate information with students, I was still learning hard skills for my position. Adapting to learning software such as Adobe Creative Cloud (InDesign, Illustrator, and Photoshop) remotely was difficult. Screen sharing and video calling became the new norm to learn all of the ins and outs of the programs.
In the twelve months that I worked at Edwards, nine and a half were spent working remotely. Like many others, I hoped every day that the pandemic would quickly disappear so that the "unprecedented" times would end, and things would go back to normal. The pandemic quickly proved the importance of team work, communication, and support in a work environment.
"As an employee, student, and student group leader during the global pandemic I learned the importance of being united, persevering, and asking for help."
August marked the last month of working full time for Edwards, and I would then become a full-time student once again. Learning remotely as a student was not a new phenomenon for me, as I had taken many online electives before. However, switching to a completely online course load was new. Not being able to see friends in the hallways of Edwards and study in the Moeller Resource Room (once called the reading room) made studying and working on projects lonelier than they were when learning was in-person.
Along with being a part-time employee and a full-time student, I also was involved with the Edwards Business Students' Society (EBSS) as the Vice President of Corporate Relations starting in April of 2020. Over the summer I learned how to lead a team remotely, and how to approach businesses to become a corporate partner with the EBSS virtually. Working with my team over the summer and hearing about the hardeconomic times, shed additional light to the different year that 2020 turned out to be. In fall, along with normal meeting times for student groups, I saw the impact that virtual fatigue has on students – and how much each of us yearned to be "regular" students once again on campus.
2020 showed growth for everyone. As an employee, student, and student group leader during the global pandemic I learned the importance of being united, persevering, and asking for help. Support and communication from peers and colleagues were key to my success as a marketing intern, student, and Vice President on the EBSS. And although I continue waiting for the pandemic to end, this year I learned the hard and soft skills to face most things that may come in my future career.
---