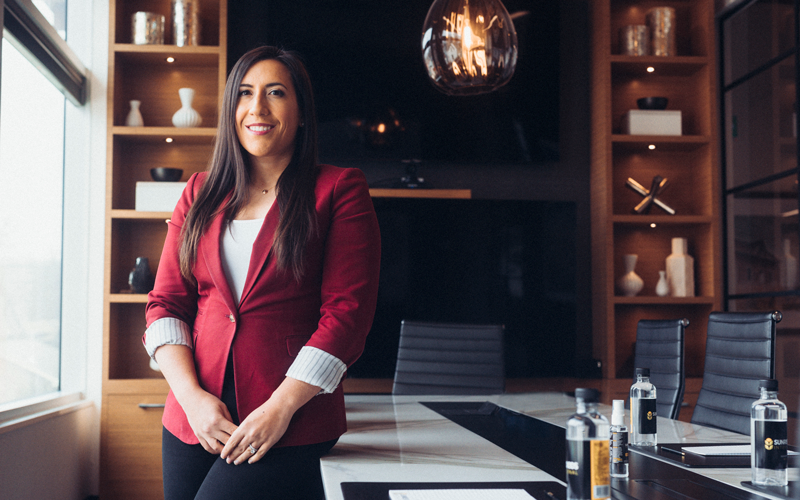 Alumna Nicole Li: Giving comes full circle
Carlee Snow

Nicole Li (Mackisey) (B.Comm. 2011, MPAcc 2012) has always looked at the big picture and is encouraging Edwards School of Business students to do the same through her scholarship support.
Li is the Chief Financial Officer of Sunrise Foods International, a global company focused on organic specialty agriculture commodities. With teams in Canada, the United States, Netherlands, and Turkey, she has become a regular globetrotter. "I frequent Turkey, I lost count of the times I've been there after ten trips."
Despite all her time abroad, she stays connected to the Saskatoon community in several ways. One being as a donor to the Edwards School of Business.
As a recipient of the N. Murray Edwards Scholarship, Joseph H. Thompson Scholarship, Goodspeed Award, and the Canadian Petroleum Tax Society Taxation Prize, Li experienced firsthand the influence donors have during her time as a student in both the Bachelor of Commerce and Master of Professional Accounting programs.
"Receiving those awards really meant a lot to me. It was extremely helpful to be able to focus solely on school without worrying about the financials," explained Li. "More importantly, to know that there are people who cared about my schooling and the goals I was aiming for was so motivational. I worked harder and opened myself up to learn as much as possible while I was a student."
This generosity inspired Li to set up The Nicole Mackisey Leadership Scholarship for students at Edwards.
"I wanted to not only give financial incentive to students, but also get them thinking about their future through goal setting," she explained. "So often in university, students only think in the short-term but do not take a step back and look at the big picture. There was not an award like this, so I saw a unique opportunity to prompt this type of thinking in students."
The scholarship amount may look a little strange at first glance, the amount ends with 29 dollars, but it has major significance. "I put it ending with 29 dollars so I could aways remember how old I was when I started giving," Li explained.
Setting up a major scholarship at the age of 29 is not overly common. To Li, getting involved with philanthropy at a young age was a fun opportunity to pursue.
"I thought, why wait till I'm old? I think it's fun to give back when you are young because you can really experience the result of your giving," explained Li. "I interact with the recipients and follow along on their journey to see the great things they accomplish with their degrees and life. You can see the impact of your investment first-hand and have the potential to cross paths professionally with them which is an amazing possibility."
Li has met all the students who have received her scholarship and said it is one of the best experiences.
"Their energy is contagious! They are all so ambitious and eager, talking about their timelines and plans for the future."
She mentioned that its common when you have been working for a while you lose that type of energy.
"After meeting and talking with the students, I feel that renewed energy from their enthusiasm. It's incredibly inspiring."
The Nicole Mackisey Leadership Scholarship was created for upper-year students to give financial support while helping them plan their path to success after the completion of their B.Comm. degree. Students create a five-year timeline of their plans after graduation, including career and academic milestones. This award asks students to think of the big picture and sets them up for success presently and beyond their time as a student.
For more information on awards, visit give.usask.ca/students or call 306-966-7471.
---