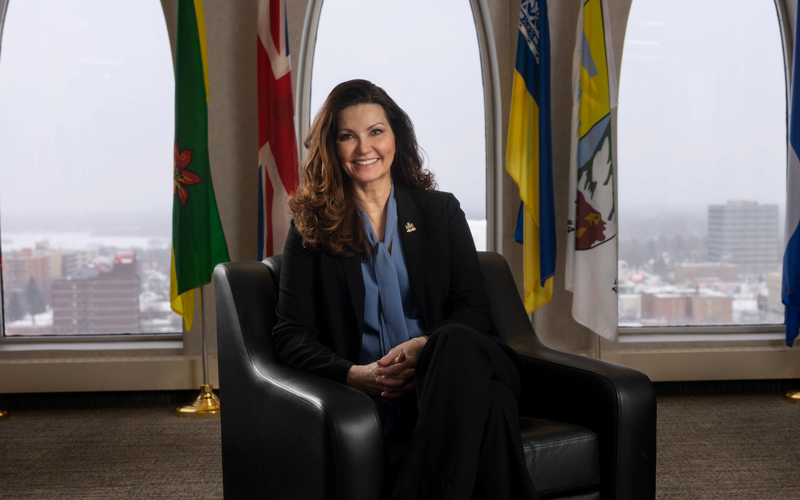 Alumna Sandra Masters: It's not about what we did, it's about what there is still left to do
Carlee Snow

Sandra Masters (B.Comm. 1996) had joked in an interview that in the span of 55 days she went from being unheard of to the mayor of a major Canadian city. She contributes her success to good preparation and timing, her campaign team, and the want for change. "I think at its very core, the residents were looking for a change."
Masters was elected the 35th mayor of Regina in November 2020, beating out nine other candidates, including the two-term incumbent, making her the first woman mayor of either of Saskatchewan's major cities.
"I was told I should join the race and my response was, 'you should find someone qualified,'" said Masters.
Although not taken seriously at first, she quickly decided to take the advice and run.
Although she had no prior political experience, Masters was well prepared for the job from her years of work and volunteerism within the Regina community.
Before her career in office, Masters held many positions in the agriculture industry and within the city of Regina. One pivotal career was with Sherwood Credit Union which helped introduce Masters into the world of volunteerism.
"I am very fortunate to have worked at Sherwood because they really valued volunteerism, so I became heavily involved through different positions during that time," explained Masters. "I was working full-time and raising my four children alone, and volunteering allowed me to participate in activities with my kids."
Over the years, Masters took on many roles, joining boards for the schools and organizations her children were involved with, helped manage, coach, judge, and referee sports teams and much more.
"Joining different organizations through these positions, even if I was not qualified, was so beneficial," said Masters. "It opened me up to so many experiences I would not normally get and connected me to so many people."
During this time, Masters noticed the underrepresentation of women in both leadership positions and in male-dominated areas, like sports.
"I was 32-years-old, and the representation was not as significant as it should be, so I became more willing to volunteer in these positions," said Masters. "I would get shoulder tapped to coach boys' sports teams or be the president of an organization. Because I showed up for one thing, people started to understand the value I held."
"I wanted to be that representation. Especially with three young boys, I wanted to show that I could do the job just as well as anyone else."
Now as mayor, Masters continues to increase the representation of women in male-dominated industries.
At the time, the media around Masters focused heavily on the novelty of her appointment as the first woman mayor of a major Saskatchewan city and she grew tired of it because it is all people seemed to be interested in.
However, in June 2021, at one of her first in-person events, a dad brought his daughter up to meet her and everything changed. The young girl was so excited to meet Masters and said she would love for her to come to her class and answer questions.
"The way she was looking up at me I immediately said, 'Yes absolutely, I would love to.' In that moment it hit me that with the absence of women in these roles, is politics even an ambition of young women? If they do not see themselves in these positions, how can they even inspire to pursue these roles?"
Although experiences like this make Masters realize the importance of this novel title and everyone's hyperfocus on it, she admits that there is a discomfort with it.
"Women are not homogenous. We do not all have the same values, desires, hopes, viewpoints, and so on. The representation piece can feel heavy because I am seen as representing a gender because I am it," explained Masters. "I cannot represent the viewpoint of every single woman; we do not look at men this way so we should not for women either."
Although her work is helping change the narrative, Masters is always looking forward on what more can be done.
"I have a problem with celebrating successes because when I am set on a goal, five minutes after we execute it, I am on to the next thing," explained Masters. "It is never 'this is what we did,' it is always 'this is what there is still left to do."
---